Basics • Comparing Airplanes
Trainers • Big Birds
Scale Models • Plans
Which Trainer? • Rules of Radio
Receivers • Build a Receiver
Transmitters • Which System?
Servos • Dry Batteries
Tools • Balsa
Sandpaper • Adhesives
Hardware • Threads
Ribs and Things • Instruction
Dihedral • Control
Balance and Trim • Center of Gravity
Landing Gear • Support Equipment
Preflight • Bad Vibes
Turns • Maintenance
Failure • Repairs
Things To Know • Old Stuff
New Stuff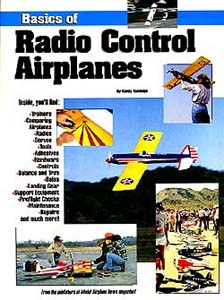 Are you looking for a way to escape the tensions of modern life? Do you want to do something that's not only enjoyable, but also challenging and satisfying? Try building and flying R/C model airplanes.
This book contains information from "The Basics of R/C," which is a column I write for Model Airplane News magazine. You'll find basic information on how to get started - everything from the selection of an airplane to how to maintain and repair it. All the techniques outlined apply to scratch-building and to building with kits, and although aerodynamics is beyond the scope of this book, there are some rule-of-thumb-type calculations that you might find useful.
Building the most complicated model is a combination of many small tasks; some are as simple as cutting a piece of wood to the proper length; others are more difficult - but less difficult when you know how. I hope my years of modeling experience will help you get airborne quickly, and with minimum frustration! Who knows? This book may change your life!